DE
Hamburg,
Recruit. Defend. Conquer. Heroes are the decisive factor in battling for victory
Goodgame Studios, Germany's leading developer of gaming software, today released additional information on PVP and hero characters in its browser game Legends of Honor. In their new video, the hamburg-based publisher explains how players fight NPC characters and attack other player's castles with their heroes through the interactive world map.
Aside from city-building, everything in Legends of Honor revolves around the hero characters, with which the game's world map is explored. To go into battle players assign an army to their heroes, and by applying level-ups or boosters to the respective unit classes(infantry, cavalry, and ranged) the heroes' army can become ever stronger in battle. The heroes and their armies then explore the huge, interactive world map where they will encounter other players' heroes and castles, as well as NPC marauders. Victories are rewarded with loot in the form of coins, resources, honor, and experience points for the heroes. The more honor a player collects, the mightier honor ranks and units they will unlock.
The right battle tactic is crucial for achieving victory and collecting honor for their faction. The numerous unit types possess their own attributes and advantages on various terrains such as forest, hills, and plains. Players must therefore plan their attacks carefully. Constructing walls, towers, and moats helps players defend their own fortress.
Read the complete press release: Download
Hamburg,
At today's all-employees meeting of Goodgame Studios, one of Germany's leading developers of gaming software, the clear majority of 62.8 percent of 1035 employees present voted against a works council. The electoral board that was to be appointed thus did not achieve a majority vote. It would have been responsible for preparing and conducting the election of a works council over the next weeks. The electoral procedures for the election of a works council has therefore been stopped at this point.
Goodgame Studios will now go on to develop an alternative system of employee representation in order to allow for more employee engagement within the company. Employees of Goodgame Studios will be in charge of establishing the new committee.
"We are happy that the majority of our employees are of the opinion that representation which is tailored specifically to the company is the most appropriate solution for Goodgame Studios. The committee when elected will have extensive rights enshrined by contractual obligation on behalf of the company, enabling it to act in the best interest of all employees. We express our sincere thanks for the work that was already done on this model and for the trust of our employees in this approach", said Kai Wawrzinek, CEO of Goodgame Studios.
Based on the clear results of the vote, we assume that everyone who is involved will respect the will of the employees and give the alternative model a fair chance to prove itself. Ver.di announced during the assembly that they will accept the result of the vote and will not take further steps.
Read the complete press release: Download
Hamburg,
City-building and growing populations pose major challenges for players
Goodgame Studios, Germany's leading developer of gaming software, today released further information on its recently launched browser game Legends of Honor. A new video explains the strategy title's gameplay and the most important aspects of city-building.
The game revolves around the conflict between three factions and the quest for honor. Players face their foes on a large world map which they explore through their heroes. To support multiple heroes with ever larger and more powerful armies, a stable economy must be maintained. In the beginning, aspiring rulers should focus on expanding their cities and upgrading buildings. Especially important are production facilities, which provide the main resources of wood, stone or food, as well as military buildings and decorations.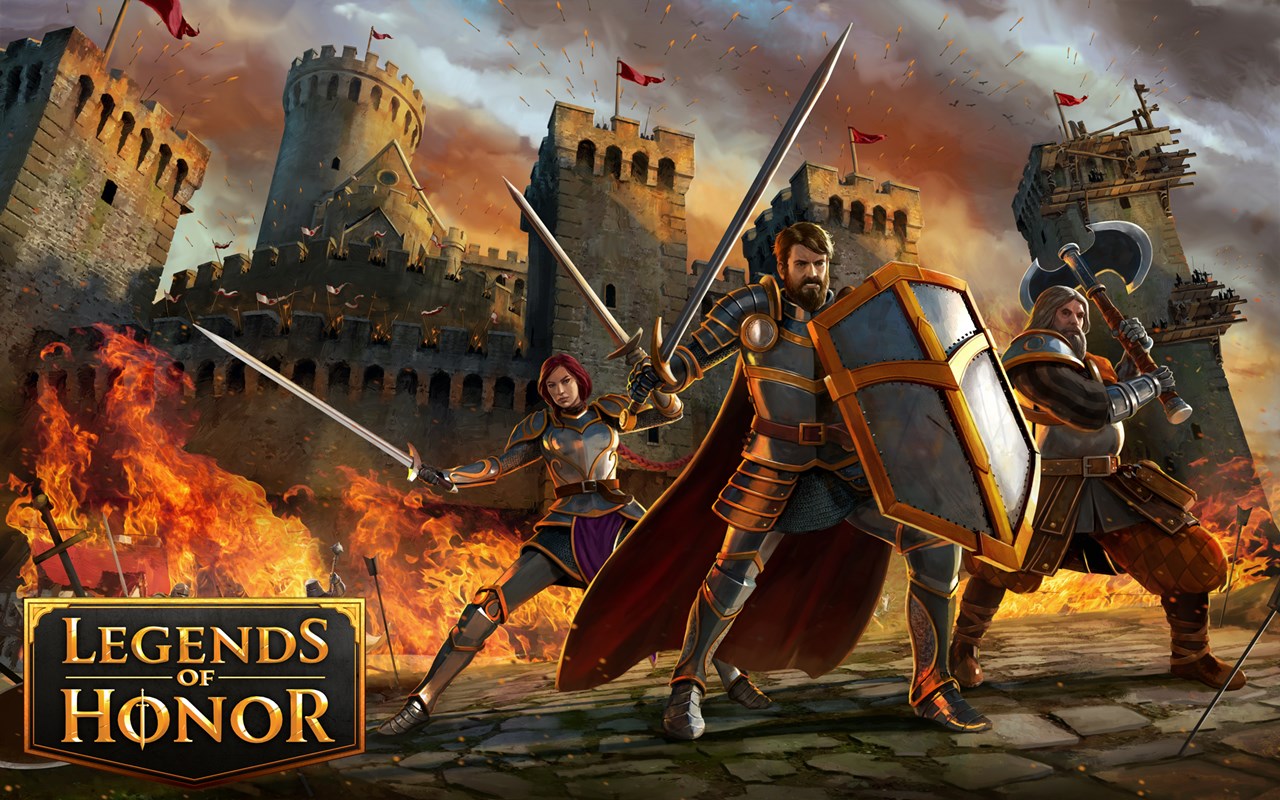 With decorations, the population's happiness can be directly improved. Satisfied citizens will be more efficient in producing resources. A lack of residencies or attacks by other players reduce happiness. Keeping a balance between military, production, and decorative buildings is a key factor to ruling a successful city.
Read the complete press release: Download
Hamburg,
Goodgame Studios releases tactical MMO strategy game with an interactive world map

Browser game Legends of Honor (legendsofhonor.com) from Goodgame Studios takes commanders into a glorious medieval world where only one thing matters: living and dying for the honor of your faction. The game is all about heroes and their armies, which must be developed and led into battles against other factions and sinister marauders. The interactive world map lets players carry out actions in the style of a real-time strategy game. The dynamic battle system and ongoing fortress expansions keep aspiring castle lords constantly engaged.
The Legends of Honor game world stands out due to its fast gameplay and features, guaranteeing long-lasting fun. After completing the short tutorial, aspiring commanders choose what faction they want to go to war for. Players can choose freely from the Order of the Golden Claw, the Knights of Ash and Shadow, and the Warriors of the Wild Lands. The player's faction determines which alliances they can later join. Alliances are an essential component of Legends of Honor. They let players coordinate attack and defense strategies with other commanders and trade resources with each other.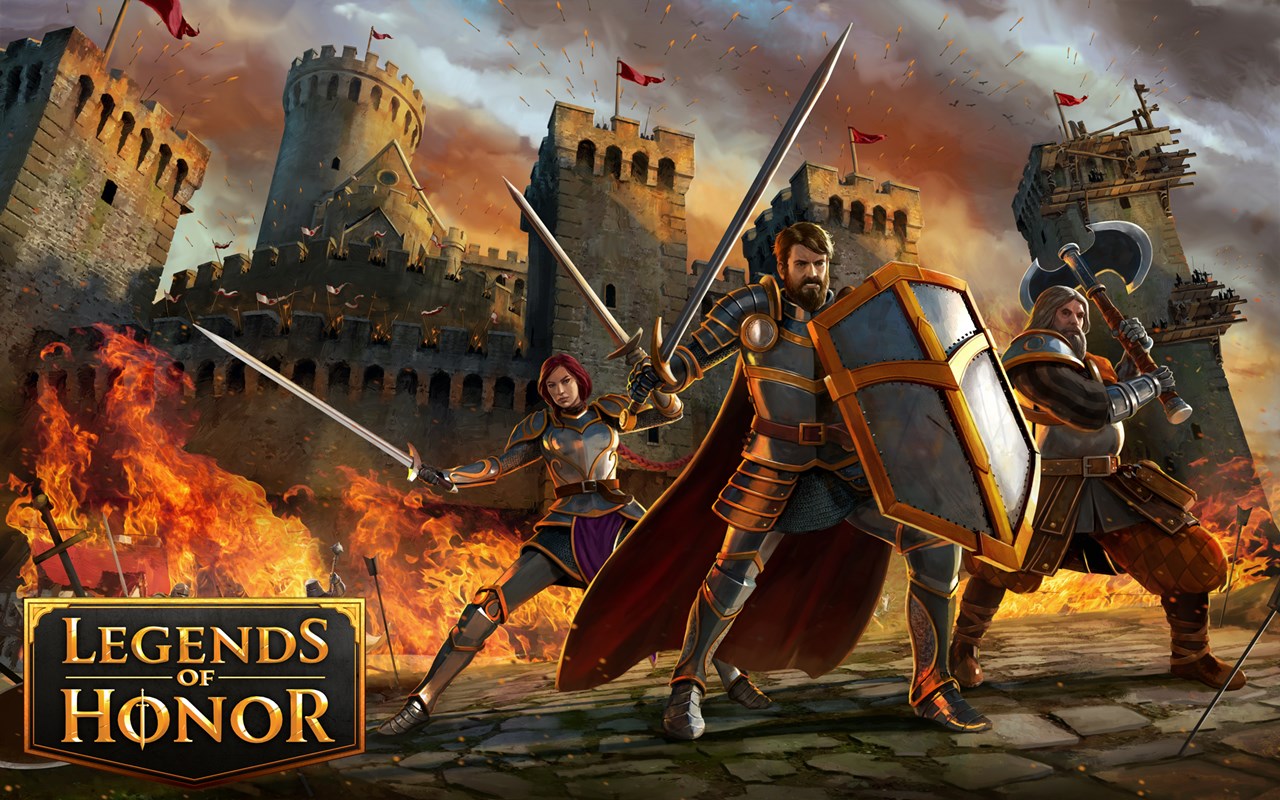 As the game's name suggests, honor is one of the key resources that commanders can earn in battles. The more honor a player collects, the mightier honor ranks and units they will unlock. Nonetheless, players should proceed with caution. If they get lazy or attack considerably weaker opponents, they will also lose honor points. If a player decides to leave their faction, they will forfeit all of their honor.
Heroes assist the player in winning battles on their path to becoming a legend. At first, players only have one hero to lead their armies. Over the course of the game, more heroes join the fight. In the style of the role-playing genre, it pays off to increase the power of your heroes through battles and equipment as they become available. The heroes can award troops various bonuses that play a key role in victory and defeat. The troop formations consist of a multitude of battle units and unit boosters that the player can improve continuously. Besides battling other players in their castles or on the world map, players also have to destroy NPC marauders. The battle system impresses players with its fast actions due to short planning times.
The special highlight of the tactical battle system is the interactive world map where heroes can move about freely. The terrain type influences armies in battle. For example, some units are good at attacking in the forest but are poor at defending themselves there. For this reason, commanders must always carefully consider where to place their units and ensure that the different types complement each other perfectly. Over the course of the game, two new kingdoms can be unlocked, which contain not only an additional world map and castle, but also new quests and resources.
Legends of Honor also offers players new challenges through upgrading fortresses and managing a total of six different resources. Especially active castle lords are given a resource clicker so their untiring fingers can ensure that wood and stone never run short.
Legends of Honor can be played worldwide and will be released in 20 languages.
Read the complete press release: Download
Please find the B2B version of the release here: Download
Hamburg,
New Units And Buildings For Fearless Players
Spooky Ghosts And Sinister Skeletons will be ready to haunt players' screens when Goodgame Studios, Germany's leading developer of gaming software, introduces exciting new events in its successful titles, Goodgame Empire and Goodgame Big Farm, this Halloween. All 110+ million registered players of these browser games can look forward to valuable rewards and action-packed challenges. read more…

Hamburg,
The successful mobile game will get its biggest update ever.
Goodgame Studios, the leading developer and provider of free-to-play games, announces a huge expansion for Empire: Four Kingdoms. Empire: Four Kingdoms is the most successful and highest-grossing German-made game for mobile and tablet. read more…